Tree Service Arden-Arcade, Affordable Tree Removal
Great Tree Service Better Prices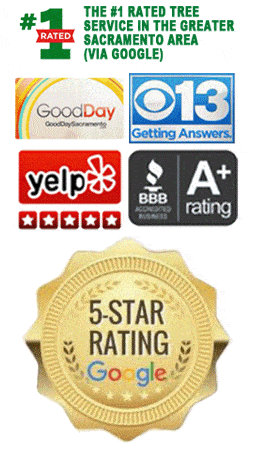 Looking for 30% off an instant tree service quote?
Text us a picture and tell us what you want
KRISTIE POWELL
2. March, 2023.
Joe showed up early and when his crew arrived he walked them around and showed them everything that we wanted done. The crew was professional, efficient, and respectful of my property. They made quick work of the multiple trees and shrubs that we needed removed. When the job was complete, they left my yard cleaner then when they arrived. I will surely recommend Tree Services Sacramento to my family and friends.
Young Kim
30. January, 2023.
It was good
Melissa Sleeper
14. December, 2022.
My tree had fallen in my front yard. Joe came out the same day I called to assess the situation and give me a quote. The team showed up the very next day and were quick. They not only got the tree and branches up and out, they also cleaned up the yard. You wouldn't have known a tree had just been on the lawn. I highly recommend this company!!
Nicholas Herrera
29. November, 2022.
I had some tree trimming done around my house and power lines, and would HIGHLY recommend working with this company. Service was prompt and fairly priced, and communication was great. The owner is very knowledgeable and willing to share helpful information for work even outside of their scope. I will absolutely be looking to use Tree Services again.
True Lee
23. November, 2022.
Joe, very knowledgeable, friendly, and professional. The crew did an awesome job. I appreciate that they were able and willing to work around certain obstacles. They were here and out in about 2 hours! Job well done Joe and crew! Thank you! I'm not one to do reviews but when it's well deserved, one should share the experience. I would recommend to anyone whose looking for quality and professional work done.
// L T //
27. October, 2022.
This was our first tree service experience so we didn't know what to expect. We had a massive ~35 ft tree in our yard overdue for some extra care with limbs growing towards our house and our neighbor's yard. It required removing large limbs, balancing the canopy, and removing suckers throughout the middle of the canopy. It was not a job for the faint of heart or even DIY aficionados, it required experienced professionals with appropriate tools and gear to complete the work at a high safety, cleanliness, and timeliness standard. From start to finish it took about 2 weeks. Joe provided exceptional service and care throughout. He was friendly, knowledgeable, professional and responsive at every step. At the review and estimate stage, he addressed our questions and concerns and provided his recommendation that met our needs. As the next steps, he promptly followed through with the agreement and scheduled in our service. By the following week, our service was complete. We are really happy with the results. Our major tree trim turned out better than we imagined as the tree not only looks great, the trim technique used brought an airiness and brightness back into our yard once again! Thank you Joe & team!
Susan Svensson
10. October, 2022.
Fast, professional, and nice guys all around. I will definitely refer anyone looking for tree services to these guys!
The experience started with Joe. He came out gave a fair price for the work to be done and it was on. Two days later the work was done. Everything looks great. Will be using them next year.
Steve Pate-Newberry
19. August, 2022.
The whole process from scheduling to completion was seamless. Joe and his crew showed up promptly on time and finished the job in under three hours. Great job!!

GREAT PRICES, NO HIDDEN FEES, UP TO 30% OFF, HONEST PRICING

PEACE OF MIND, LICENSED, BONDED, INSURED, YOU'RE COVERED

SAVE TIME, DON'T WAIT FOR ANOTHER ESTIMATE, GET AN INSTA-QUOTE

FREE, NO-OBLIGATION PRICE QUOTES, OVER THE PHONE AND IN PERSON

PROFESSIONAL  SAFE CREWS, AND OVER 40 YEARS OF EXPERIENCE
Tree Service Arden-Arcade
Welcome to your local Tree Service Arden-Arcade, CA . Caring for them can be a hassle, especially if you are not trained to do it yourself professionally. As a property owner, you are encouraged to hire a service specialist to do this. We are a specialized arborist company, providing first class care for all types of residential and commercial properties. We achieve this through the provision of our skilled workforce as well as our esteemed service.  Our in-depth knowledge and extensive expertise in service Arden-Arcade matters will guarantee the proper health your property.
Our service offers our customers sophisticated options to enhance their outdoor space, while maximizing overall values. In general, our team of arborists will introduce you to our reliable, reputable and high quality arboriculture options. Our local care services ensure that only competent personnel are allowed to run the required services on site. In addition, we have determined reasonable service fees for all of our services as we maintain, improve and enhance the value of your assets.
Tree Service Costs – Find out what the costs are for service and maintenance.
Services – Let us become your home for all your care services. Preview our services including: Tree Trimming, Tree Cutting, Tree Removal, Arborist Services. Regular upkeep ensures your stock and shrubs won't cost you a fortune in the future.
Why should you pick our Arden-Arcade Tree Services? Firstly, we are convenient because we offer all sorts of services under one roof. Secondly, we provide phenomenal work and our high standards are superb in taking care of and maintenance regardless of the situation.  Thirdly, we are highly professional, we maintain professional standards, and will always agree according to the terms of the contract.  Most importantly, we are licensed, bonded, and our crews have workman's compensation insurance.  This means your home is protected, so in the event your home is damaged you have protection to get it fixed. Or if an employee gets hurt while on the job you won't be liable for their damages.  Therefore, we will provide the ultimate professional services, as we will exceed your expectations of being our customer. Lastly, our service delivery is expeditious meaning we will get the job done as soon as possible on the basis of our contract. The readiness of our team ensures the continued use of the time required to complete service tasks.
Tree Removal Arden-Arcade
Need a remove in Arden-Arcade, California? We offer Removal services with our certified and experienced arborists in Arden-Arcade.
Removals are performed for many reasons. One is to eliminate dead and dying brush as well as those that have become hazardous. Removing them in Arden-Arcade, CA can also be useful in eliminating competition for light and space so that the remaining plants are better able to grow and thrive. In some cases, these towering plants may also be removed to allow for new construction, home additions and to provide clearances with those structures.
The size being removed has the biggest impact on cost since it determines the amount of work involved. Although several factors are included in pricing removal services, understanding how the height impacts the rate helps homeowners determine which removal rates are fair and accurate.
Sizing is not the only classification that affects removal costs. Although general estimates are available based on size, things like the complexity of the branch removal and the trunk diameter also impact cost, which is why there are price variations within a size classification. If the 30-foot crabapple has a difficult trunk or is in an inaccessible location, it may cost more to remove than an unobstructed basic 35-foot oak with a simple branch structure. Larger projects also require more manpower and heavy-duty equipment to complete the job. How long it will take to remove them should also be taken into consideration.  These combined factors determine the height and difficulty of the job to provide an accurate cost estimate.
As part of the removal process, the stump will typically be left as close to the ground as possible. If needed, removal of the stump can be provided. Stump removal can be challenging and often special machinery is required, but is necessary if the stump is a hazard in the landscape or simply an eyesore. Stump grinding by a professional is the easiest and safest way to handle this work.
Although these big plants are essential in nature, you may consider removing them for several reasons. They are beautiful and usually enhance landscapes, but they may become an issue in certain situations. Storm damage, dead brush, and roots growing too close to your foundation or sewer lines are just a few examples. Regardless of your reasons, it is important to address the problem right away and find the right removal service for the job.
Arborist Arden-Arcade
Arborists are professionals who work with all types of plants. There are two types of professional arborists: certified and consulting. Certified ones offer planting, pruning, transplanting, fertilizing, monitoring and treatment for insects and diseases and tree removal.
Having an arborist to diagnose these issues can be a great advantage to keeping your property  in a healthy condition. Professional, trained arborists know how to properly maintain them for the safety of the public and the health of the plant. Your property's foliage is an investment that requires proper care; however, pruning or removing especially large ones, can be dangerous work. This should only be done by those trained and equipped. 
Our arborists will provide Arden-Arcade Tree Services and will visit your property to examine the situation. One example is trimming the branches that are getting too close to power lines. Or if a complete removal is needed to for potentially damaging underground pipes.
Tree Trimming Arden-Arcade
Trimming and pruning services in Arden-Arcade are the cornerstone for successful property care. It is critical to sustaining their health, stimulating growth and retaining its natural appearance, but if you try to trim yourself, you could end up trimming incorrectly, causing serious damage to your stupendous plant.
Pruning and trimming are both science and an art form. The science involves a deep understanding of biology, recognizing plant defects and skillfully eliminating or reducing defects without compromising the growth or causing irreparable damages. The art form is masterfully trimming and pruning by removing proper deadwood that aesthetically shapes your tree to enhance the beauty of your landscape.
One aspect of pruning that is often overlooked by consumers is structural pruning of young saplings. Pruning when they are young and growing quickly is critical to ensuring a strong framework for future growth. This pruning focuses on maintaining a single dominant stem unless multiple stem "clumps" are specifically desired. Branches are pruned so their size remains proportional to the stem diameter at their point of attachment. As growth occurs, some branches are removed to ensure adequate spacing between permanent scaffold branches.
On mature trees, pruning is required to remove dead and dying branches in order to maintain the health and safety of the plant. This type of pruning is called cleaning. Research shows that thinning, the removal of live branches to reduce density, significantly reduces wind resistance and subsequent storm damage. Thinning should only be done if the crown is "too dense". Our arborists are trained and experienced in assessing this property.  Thinning should be concentrated on the outer part of the crown, leaving as many branches as possible on the inner crown. In some cases, canopies or individual branches need to be shortened in length to improve the shape and shape of the tree, eliminate interference with objects and structures, and compensate for structural defects. For the same reason, pruning of the lower branches may be necessary.
http://treexp.com
https://www.americanforests.org
https://fallingfruit.org
https://onetreeplanted.org
https://support.nature.org
https://give.americanforests.org
https://www.nationalforests.org
https://trees.org
https://edenprojects.org